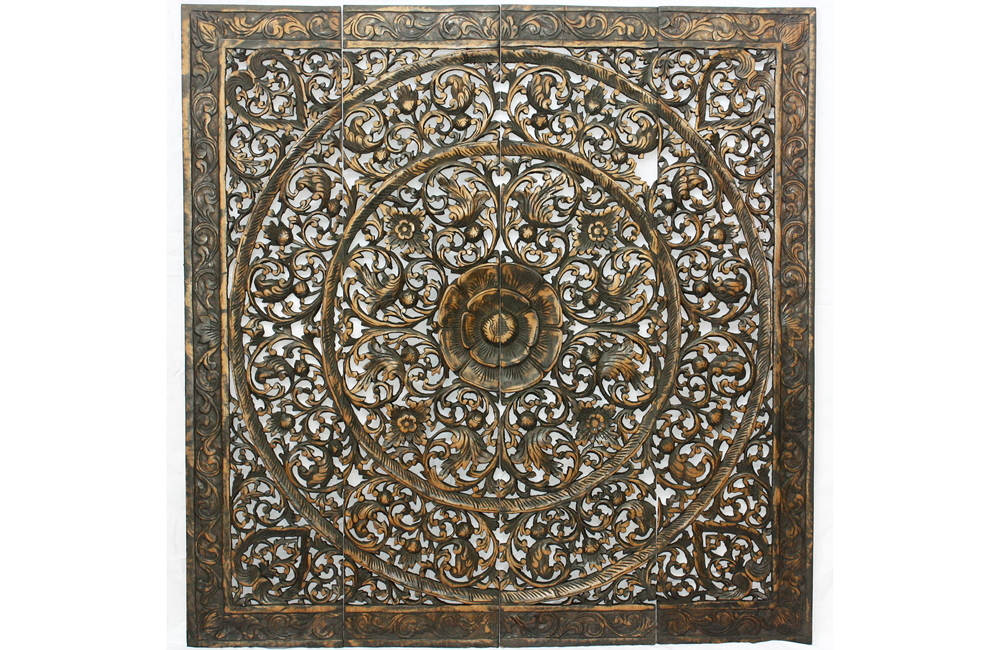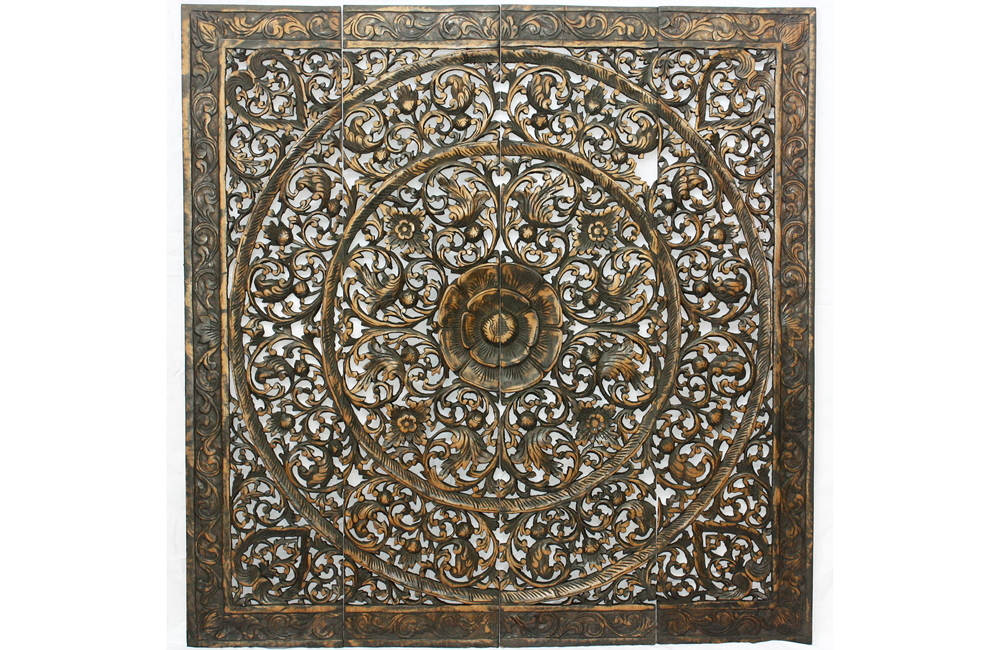 Teak Lotus Panel 48"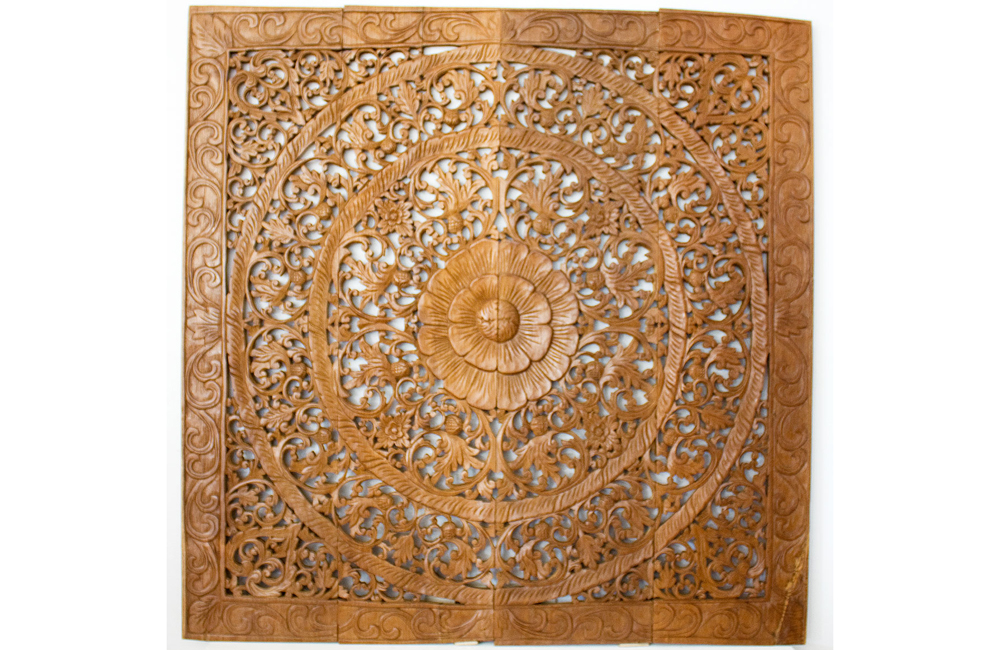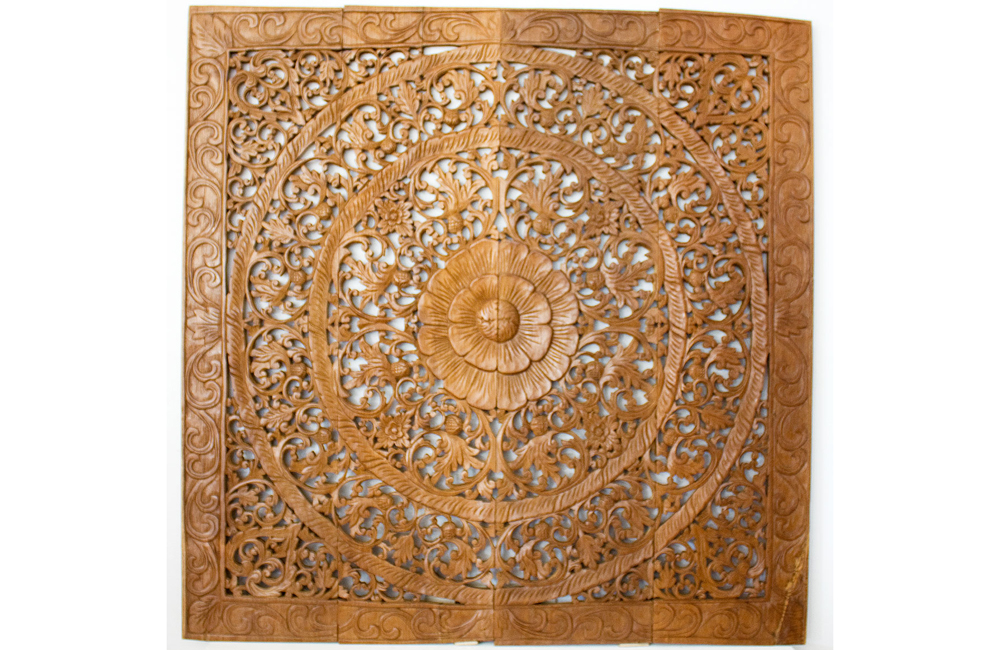 Teak Lotus Panel 48"
---
Similar to our 3-D design, this panel has a slight different middle flower. The same awe-inspiring artistry is incorporated into this design.
The reclaimed recycled teak combined with our eco friendly water-based black stain or natural wax finish takes home decorating to a whole new level. We use a natural water-based stain on the panels. The lightly sanded carved surfaces create natural highlights. A natural wax is applied to seal the wood.
Each panel is carved out of joined panels of reclaimed and recycled old teak wood. To make hanging easier, there are two embedded flush mount keyhole hangers for a protruding screw from your wall. Hand carved by craftspeople in Thailand, who spend hours shaping, sanding, and finishing these wonders of wood, each piece is unique and variations in wood color are evident.
The colors will vary naturally, just like the trees from which the wood came many years before varied. Panels are shipped in sections for ease of shipping and a more manageable hanging weight. Crafted from reclaimed recycled Teak wood, they make minimal use of electric hand sanders in the finishing process. Products are dried in solar and or propane kilns; no chemicals are used in the process, ever. Each piece is dried, sanded, rubbed with eco friendly black stain, and all natural wax; they are then packaged with cartons from recycled cardboard with no plastic or other fillers.
As this is a natural product, the color and grain of your piece of nature will be unique, and may include small checks or cracks that occur when the wood is dried. Sizes are approximate. Products could have visible marks from tools used, patches from small repairs, knot holes, natural inclusions or holes. There may be various separations or cracks on your piece when it arrives. There may be some slight variation in size, color, texture, and finish color.
Dimensions
48″ x 48″ x 1″